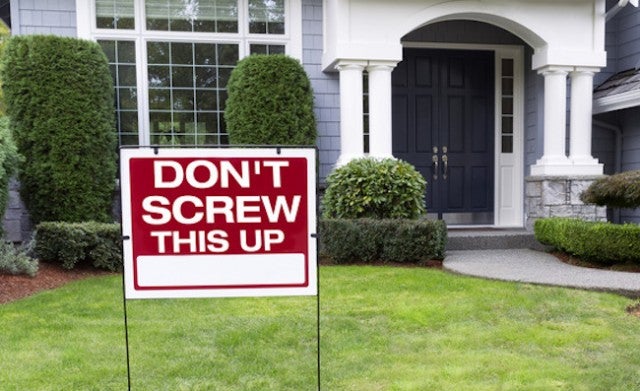 Buying your first home can be exciting, but it can also be intimidating. Your soon to be home is where you want to put your roots and grow them, as well as start a new chapter in your life and that may include starting a family. Learning about some pitfalls and how to avoid them is a good first step, so here a few pitfalls to avoid:
There is plenty of paperwork involved when it comes to purchasing a home. So, before you sign anything from a Buyer Representation Agreement you sign to work with a real estate professional, or Agreement of Purchase and Sale to make an offer on a property be sure you understand what you are signing. Once you have signed something, it is a legally binding contract, so take time to understand what you are signing and make sure to ask questions.
Getting Caught Up in the Frenzy
This past year we saw a seller's market in the GTA real estate market. What this means is that there are more buyers than homes available for sale and can lead to multiple offers on homes or homes being sold very quickly. Losing out on a home can be upsetting, but when it comes to making rash decisions or going over your budget, it can hurt you in the long-term. So, make sure to keep a cool head and stick to your budget to make sure you have a positive buying experience.
Removing Conditions from Your Offer
Removing conditions from your offer, such as financing or a home inspection, could make your offer more attractive to the seller. However, on the opposite hand it could leave you more vulnerable.  An example of this might be, you could be on the hook for thousands of dollars in unexpected repairs that a home inspection could have potentially caught. Before you start removing conditions, make sure you can afford the risk if something were to go wrong.
Assuming What You See is What You Get
When you are walking through an open house, maybe there is something that catches your eye like the kitchen appliances, but you shouldn't assume that these come with the house. The seller might want to take these appliances with them to their new home. Other items in the home like the furnace or water heater might also be under a rental contract. So before making an offer, ask your registered real estate professional to detail all these items in writing together with applicable rental or lease contract details. Your offer can also include a clause requiring the seller to pay out any outstanding contracts, giving you clear ownership of the items under rental or lease.
Just remember that a registered real estate professional like myself can be an asset in helping you make informed decisions during your hunt for a home.