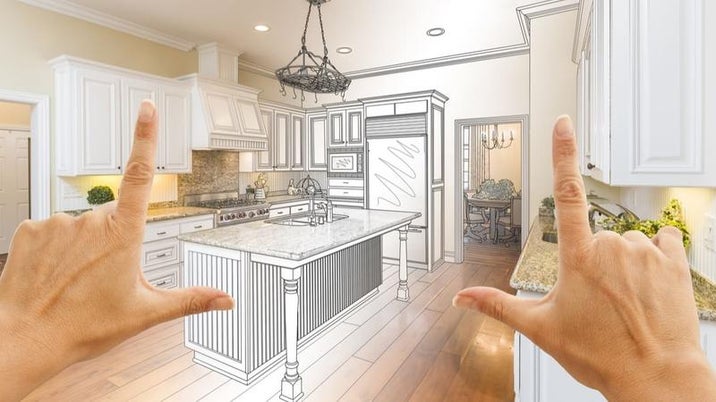 There are two main reasons when it comes to Home Improvements and Renovations, the first and major one is to improve your home to fit your own personal needs, the second one is to add value to your home or property.
A good investment in a renovation should increase the value of your home by at least 50% of what you spent. Many factors will affect the appraiser's opinion of these improvements including the location, value range of the home, market trends, the age of the home and quality of improvement. Before you start planning any improvements to try and raise the value of your home, below are some improvements that will add value to your home and some that won't.
Percentage of your investment that is generally recouped or returned upon at resale:
150% Return - Remodelled Kitchen: A kitchen update can reward a seller with a sizable payback. Just remember though; splurging on fancy finishing materials or sophisticated equipment may cut into your profit. Keep it simple.
100% Return - Revitalized Lawn and Garden: A verdant lawn and a modest but colourful flower bed will entice potential buyers. The few hundred dollars invested may yield several thousands in profit.

100% Return - Fireplace: Especially if it is energy efficient, such as a gas-powered model, a fireplace holds the promise of cozy family gatherings around the warmth of the hearth.

90% Return - Second Bathroom: All it takes is a simple 5x9 foot extra bathroom to make mornings more civilized for most families. But don't count on a return on extras like a heat lamp or whirlpool tub.
80% Return - Room Addition: For the most attractive return of your investment dollars later on, the added room should be today's popular family room or a third bedroom.
80% Return - Remodelled Bathroom: A master bathroom is on many buyer's list, so invest here. If you own only one bathroom, install two sinks or a double vanity to handle the morning crowd.
70% Return - Expanded Master Suite: To keep costs down, try to find extra space to create this wish list item by combining existing rooms and spaces. Heavy structural work entailed by adding square feet diminishes your return.
70% Return - Deck: Outdoor living space is a desirable asset no matter where the locale. No maintenance decking material leaves lots more leisure time, too.
50% Return - Exterior Paint: Sprucing up tired siding, trim, etc., can take years off the look of
an older house.
50% Return - Finished Attic: You can expect to recoup more of your investment if you make sure the renovation does not detract from the aesthetics of your home. It is especially attractive as an extra bedroom in a small house.
40% Return - Finished Basement: This is a great way to gain added living space without building a costly addition. If the basement has an access door to the outdoors, the project becomes more valuable.
40% Return - Heating Systems: Replace it only if your old system is dysfunctional. Depending upon a buyer's priorities, a new energy efficient furnace may or may not be a selling advantage.
35% Return - New Windows and Doors: Buyers appreciate changes that improve the look of a house, so attractive new French doors, for example, may be a plus. Energy efficient units are an ecological boom, but may be a resale bust.

30% Return - Garage: You should try not to go overboard to blend it into your home's architectural style. Its desirability increases if you live in a part of the country with a harsh climate.
0% Return - Swimming Pool: Unless you live where the sun always shines, such as Southern California, this luxury item can detract from your resale profit.